Tag: mobile device
by admin on Feb.01, 2010, under News, Technology
El nuevo producto de Apple ha suscitado en cuatro días reacciones de devoción y críticas
El mundo quería una tableta. Y Steve Jobs creó una. Pero no una tableta cualquiera. El consejero delegado de Apple creó el iPad, un nuevo tipo de producto en sí mismo. Con sus virtudes. Con sus defectos. Llamado a revolucionar el mundo de la tecnología. Ese dispositivo de 10 pulgadas (25 centímetros) tiene ahora ante sí una tarea de titanes: impulsar el mercado de los libros digitales, hacer de la prensa online un negocio rentable y atraer a las generaciones adultas a las nuevas tecnologías. Se le atribuyen todo tipo de bondades. Se esperan de él milagros. Ha suscitado, en cuatro días, reacciones de devoción y decepciones amargas. Del iPad se espera una revolución. (continue reading…)
:apple, book, ipad, iphone, mobile device, Steve Jobs, tablet
more...
by admin on Jan.29, 2010, under Technology
There is something very alluring about a device that Steve Jobs hailed as both "magical" and "revolutionary"–a mix of Disneyland and quantum physics. It makes you want to be the first on your block or among your peers to claim one of the wondrous new iPads as your own.
Steve Jobs said "being in technology for 30-plus years I can attest to the fact that the technology road is bumpy. There is always chang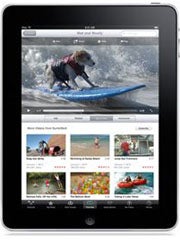 e and improvement, and there is always someone who bought a product before a particular cutoff date and misses the new price or the new operating system or the new whatever. This is life in the technology lane."
Of course, he wasn't referring to the iPad, but his words ring just as true. Jobs said that in 2007 in response to the backlash caused when Apple cut the price of the iPhone by $200 only months after the early adopters forked out $600 to be first in line.
Before you pitch your tent outside of the local Apple Store and camp out for days to be first in line when the iPad becomes available, consider some of the reasons that it may be wiser to wait a while. Here are five reasons you might want to hold out for the second-generation iPad: (continue reading…)
:apple, ipad, iphone, mobile device, tablet
more...